Minkowski's Modern World
Corrected version of Chapter 2 in V. Petkov, ed, Minkowski Spacetime: A Hundred Years Later, Springer, 2010, pp. 43–61; corrections appear in

red

.
Contents
When Hermann Minkowski's first paper on relativity theory [28] appeared in April 1908, it was met with an immediate, largely critical response. The paper purported to extend the reach of the principle of relativity to the electrodynamics of moving media, but one of the founders of relativity theory, the young Albert Einstein, along with his co-author Jakob Laub, found Minkowski's theory to be wanting on physical and formal grounds alike. The lesson in physics delivered by his two former students did not merit a rejoinder, but their summary dismissal of his sophisticated four-dimensional formalism for physics appears to have given him pause.
The necessity of such a formalism for physics was stressed by Minkowski in a lecture entitled "Raum und Zeit," delivered at the annual meeting of the German Association for Natural Scientists and Physicians in Cologne, on 21 September 1908. Minkowski argued famously in Cologne that certain circumstances required scientists to discard the view of physical space as a Euclidean three-space, in favor of a four-dimensional world with a geometry characterized by the invariance of a certain quadratic form. Delivered in grand style, Minkowski's lecture struck a chord among scientists and philosophers, and upon publication, generated a reaction that was phenomenal in terms of sheer publication numbers and disciplinary breadth.
Historians have naturally sought to explain this burst of interest in relativity theory. According to one current of thought, Minkowski added nothing of substance to Einstein's theory of relativity, but expressed relativist ideas more forcefully and memorably than Einstein [18, 17]. An alternative explanation claims that Minkowski's explicit appeal to "pre-established harmony" between pure mathematics and physics resonated with Wilhelmine scientists and philosophers, just when Leibnizian ideas were undergoing a revival in philosophical circles [37].
In this paper I want to suggest that much of the excitement generated by Minkowski's Cologne lecture among scientists and philosophers arose from an idea that was scandalous when announced on September 21, 1908, but which was soon assimilated, first by theorists and then by the scientific community at large: Euclidean geometry was no longer adequate to the task of describing physical reality, and had to be replaced by the geometry of a four-dimensional space Minkowski called the "world." Such an affirmation engaged implicitly with the Riemann-Helmholtz-Lie-Poincaré problem of space, and flatly contradicted Poincaré's conventionalist philosophy, whereby the geometry assigned to physical space is a matter of choice, not necessity.
The first section sketches the background to physical geometry at the time of Minkowski's first lecture on relativity in 1907, and in the second section, the emergence and evolution of the concept of the "world" in Minkowski's writings is discussed, along with a reconstruction of the related discovery of "worldlines." In the third section, the reaction sustained by Minkowski's radical worldview on the part of a few of his most capable readers in physics is reviewed.
1

The geometry of physical space circa 1907

For the few who had followed advances in the electrodynamics of moving bodies up to 1907, including the papers on this topic by Lorentz, Poincaré and Einstein, in Dutch, English, French, and German, the sources of confusion were many and varied about what was physically significant in these theories and what was not. For example, Lorentz employed a coordinate transformation that was meant to be composed with a Galilean transformation, where Poincaré and Einstein folded the two steps into a single transformation, which Poincaré called the "Lorentz" transformation. Poincaré referred to primed and unprimed Lorentz transformations corresponding to motion and relative rest, but within a single frame of reference [49], obviating recourse to the synchronization of clocks, a topic central to Einstein's presentation of relativistic kinematics.11endnote: 1 This account draws on standard histories of the special theory of relativity [27, 5].

On other points, there was obvious agreement between the first three relativists. For example, all agreed that bodies in motion undergo a certain contraction in the direction of motion; this was the well-known Lorentz-FitzGerald contraction. For Poincaré and Einstein, the law of velocity composition was such that the speed of light in vacuum was a maximal velocity, in contradiction with classical mechanics, which features no such speed limit.

The law of velocity composition was a sticking point for physicists, according to one observer, who described it as a "strange result" of Einstein's theory [45]. Einstein derived his law directly from the Lorentz transformation, and expressed it as follows:

where and are the velocities to compose, the angle formed by the velocities, and the velocity of light [6]. Einstein noted that the parallelogram law of classical kinematics was now valid only in first-order approximation. The focus on a limit relation with the Newtonian (Euclidean) case of the addition law was typical of Einstein's reasoning.

Poincaré, on the other hand, was known to be more of a conquerer than a colonizer in science, and this reputation is borne out by his contribution to relativity theory [57]. For example, Poincaré observed that a Lorentz transformation is a rotation in a four-dimensional vector space with coordinates , , , and [35]. He used this knowledge to form quadruplets equivalent to modern four-vectors of radius, velocity, force and force density, for application in a Lorentz-invariant law of gravitation. Remarkably, the details of his derivation show that he did not approach his quadruplets as so many directed four-vectors, but as simple Lorentz-invariant quantities. In a word, when Poincaré introduced his four-dimensional vector space, he was not thinking primarily in terms of modern four-vectors [55].

Another important feature of relativity theory noted by Poincaré was the significance of Lorentz's electron theory for classical length measurement. Poincaré asked rhetorically how we go about measuring, and answered as follows [35, p. 132]:
The first response will be: we transport objects considered to be invariable solids, one on top of the other. But that is no longer true in the current theory if we admit the Lorentzian contraction. In this theory, two lengths are equal, by definition, if they are spanned by light in equal times.
Unlike the standard (Helmholtzian) definition of length congruence based on the free mobility of solids, length congruence in Lorentz's theory depends on the light standard. What Poincaré pointed out, albeit obliquely, was a conflict between the traditional notion of rigidity and the principle of relativity. There are, in fact, no rigid rods in Poincaré's theory of relativity, in stark contrast with Einstein's theory.
According to the doctrine of physical space Poincaré developed in the 1890s, the fact that geometry is an abstract science precludes any knowledge of the geometry of physical space, since the identification of geometric objects (points, lines, planes) with physical processes (lightrays, axes of rotation of regular solids) is arbitrary. His view was essentially equivalent to that of Helmholtz, who recognized the possibility of constructing a non-Newtonian physics based on hyperbolic geometry. But in contrast to Helmholtz, Poincaré insisted on the impossibility of an empirical foundation of the geometry of space, and predicted that Euclidean geometry would forever remain the most convenient geometry [58].
Poincaré recognized as early as 1898 that time and simultaneity were not absolutely given by phenomena, and noted several practical methods of clock synchronization, including clock transport and the exchange of telegraphic signals [33]. Most notably, Poincaré had the genial idea in 1900 of defining operationally Lorentz's ''Ortszeit'' or local time, as the first-order result of clock synchronization via light signals for two observers relatively at rest, in common motion with respect to the ether, and assuming light isotropy but ignoring the common motion.22endnote: 2 For a derivation, see [4]. Poincaré's discovery is linked to his activities as a member of the Bureau of Longitudes in [8]; transcriptions of related letters and reports may be consulted at the Henri Poincaré Papers website (henripoincarepapers.univ-nantes.fr). For Poincaré, his operational definition of local time imbued it with physical meaning. Nonetheless, in his view, local time remained distinct from the "true" time kept by clocks at rest with respect to the ether. And although the local time definition mixed quantities of length and time (using modern notation):
where is the frame velocity, is the spatial separation of the two clocks, and is the general (ether) time, Poincaré did not perceive any threat here to his conventionalist doctrine of physical space.
In the first years of the twentieth century, many theorists in electrodynamics were familiar with Poincaré's doctrine of physical space and operational definition of local time. That Einstein should employ a synchronization procedure identical to Poincaré's in his first relativity paper is quite natural. In a letter to his friend Habicht, Einstein wrote that his theory involved a "modification of the theory of space and time" [21, Doc. 26]. From kinematic assumptions and light-speed invariance, after much calculation both fastidious and subtle [26], Einstein managed to derive the Lorentz transformation, thereby setting his new physics of inertial frames on sure logical ground.
Einstein's remark to Habicht suggested that his relativity paper would modify the theory of time and space, and the kinematic section of his paper certainly lives up to this billing. The young Einstein had no fear of challenging received wisdom, noisily dismissing from physics the concept of "light-ether," or "absolutely stationary space," the introduction of this concept being "superfluous" [6]. For the rest, Einstein proceeded as if the notion of rigid rods could be applied freely in relativity theory.
As for the notion of time, it did not escape Einstein's attention that it was a path-dependent quantity in his theory. A clock transported with constant speed around a closed curve, Einstein predicted, would show a lag of seconds with respect to a clock at rest, initially synchronized with the mobile clock. For Einstein, this was just another "peculiar consequence" of his kinematic assumptions, offering him no further insight to the theory of space and time [6].33endnote: 3 Einstein tacitly assumed that the mobile clock rate depends only on the first derivative of its position vector with respect to a clock at rest [43, p. 68].
How did scientists respond to the theories of Poincaré and Einstein? Most ignored their discoveries, which seemed at first to concern only electron dynamics. In addition, it appeared that the so-called "Lorentz-Einstein" theory was inconsistent with the latest experimental results.
Late in the year 1907, a young mathematician at MIT, with J.W. Gibbs the co-author of an influential treatise on vector analysis, E.B. Wilson complained [61] that while over the previous forty months physicists had taken "long strides" along the path of electron theory, the mathematical theory of electricity had advanced "comparatively little" since the landmark work of Lorentz. Like many scientists of the time, Wilson understood the measurements of electron deflection by the Bonn experimental physicist Walter Kaufmann to have ruled out Lorentz's contractile electron. For Wilson, who was a critic of Poincaré's conventionalist approach to physics, Kaufmann's results held a somewhat deeper meaning both for physics, and for our knowledge of the universe in general, because as Poincaré's work had shown, without the Lorentz electron ''the principle of relativity cannot subsist.''44endnote: 4 Wilson's understanding of the consequence of Kaufmann's results for the principle of relativity was shared by all relativists, including Einstein, at least until Laue [25] recast the dynamics of the contractile electron in four-dimensional terms. For a review of Laue's analysis, see [19]. Although Poincaré had expressed disdain for a tangible ether, and a certain attachment to the relativity of space [36], Wilson was keen to be done with the principle of relativity. "It is certainly more satisfactory philosophically and scientifically," Wilson wrote, "to be left with the hope that some day we may be able to distinguish absolute motion than to feel that we shall in nowise be able to do so."
Wilson's attachment to absolute space was shared by Lorentz, and by most physicists circa 1907, very few of whom had heard of Einstein's theory of relativity, and even fewer of whom had engaged with it. In all of 1906, nine individuals published on relativity, and by the end of 1907, the yearly total came to twenty-three. In September 1907, when Einstein, then employed as a patent examiner in Bern, was asked by Johannes Stark to write a review article on relativity, Einstein averred acquaintance with only five papers (by four authors) on the topic, excluding his own work.55endnote: 5 Two of the five papers mentioned by Einstein appeared before his own writings on relativity. Einstein to Johannes Stark, 25 Sept. 1907 [21, Doc. 58].
A month later, Minkowski wrote to Einstein from Göttingen to request an offprint of his first relativity paper [21, Doc. 62]. According to the letter, Minkowski's immediate objective was to prepare a seminar on the partial differential equations of mathematical physics at the University of Göttingen, co-directed with his colleague and best friend, the mathematician David Hilbert [3]. But less than a month later, on November 5 1907, Minkowski delivered a report [30] on Poincaré's theory of gravitation [35] and Planck's recent paper on relativistic dynamics [32] to the Göttingen mathematical society, in which he described his own four-dimensional program for physics, based in part on Einstein's theory.
2

World-geometry (1907–1908)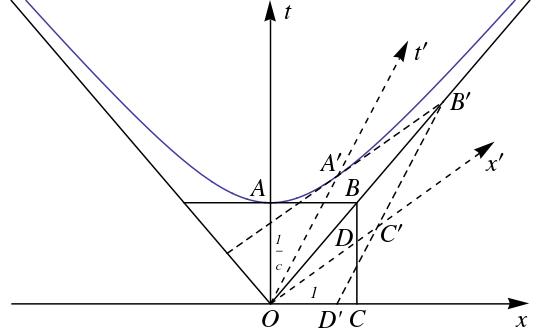 3

The reception of "Raum und Zeit"
4

Minkowski's modern world

Minkowski's carefully-crafted Cologne lecture shocked scientists' sensibilities, in sharp contrast to all previous writings on relativity, including his own. In modernist style, he piled provocation upon provocation: the disciplinary rhetoric, the spate of neologisms, the self-serving (and quite fictional) account of the discovery of spacetime, the anti-conventionalist charge, the discounting of Poincaré, the disingenuous account of Einstein's kinematics, and the geometrical explanation of electron contraction and gravitational attraction, all combine to make "Raum und Zeit" a magnificent example of scientific agitprop.

There was more to the Cologne lecture than mere provocation, of course, as Minkowski took care to place his theory in a distinguished lineage leading from Lorentz, Liénard, Wiechert, Schwarzschild, Einstein and Planck. He claimed not only to have surpassed Lorentz and Einstein, but to have provided a theory of gravitation on an observational par with that of Newton, and to have crafted an electron-based theory of electrodynamics of moving media superior to that of Lorentz. All these claims turned out to be true, adding credibility to the whole, and prompting Arnold Sommerfeld to remark, five years later, that "there is nothing in what Minkowski says that must now be withdrawn." Sommerfeld admitted only one exception: the theory of gravitation, where Einstein's field theory appeared preferable to the action-at-a-distance approaches of Poincaré and Minkowski [47].

The author of "Raum and Zeit" famously characterized his intuitions (Anschauungen) of space and time as grounded in experimental physics, and radical in nature. Predictably, his lecture created a scandal for physicists in its day, but unlike most scandals, it did not fade away with the next provocation. Instead, Minkowski focused attention on how mathematics structures our understanding of the physical universe, in a way no other writer had done since Riemann, or has managed to do since, paving the way for acceptance of even more visually-unintuitive theories to come in the early twentieth century, including general relativity and quantum mechanics. Minkowski's provocation of physicists in Cologne, his rejection of existing referents of time, space, and geometry, and his appeal to subjective intuition to describe external reality may certainly be detached from Minkowski geometry, as Laue and others wished, but not if we want to grasp how the concept of spacetime reshaped physics in the early twentieth century.
Time-stamp: "28.01.2021 13:43"