Figures of Light in the Early History of Relativity (1905–1914)
Published in David Rowe, Tilman Sauer, and Scott A. Walter, eds, Beyond Einstein: Perspectives on Geometry, Gravitation, and Cosmology in the Twentieth Century (Einstein Studies 14), 3–50, Basel: Birkhäuser, 2018; doi: 10.1007/978-1-4939-7708-6_1
Abstract
Albert Einstein's bold assertion of the form-invariance of the equation of a spherical light wave with respect to inertial frames of reference (1905) became, in the space of six years, the preferred foundation of his theory of relativity. Early on, however, Einstein's universal light-sphere invariance was challenged on epistemological grounds by Henri Poincaré, who promoted an alternative demonstration of the foundations of relativity theory based on the notion of a light ellipsoid. A third figure of light, Hermann Minkowski's lightcone also provided a new means of envisioning the foundations of relativity. Drawing in part on archival sources, this paper shows how an informal, international group of physicists, mathematicians, and engineers, including Einstein, Paul Langevin, Poincaré, Hermann Minkowski, Ebenezer Cunningham, Harry Bateman, Otto Berg, Max Planck, Max Laue, A. A. Robb, and Ludwig Silberstein, employed figures of light during the formative years of relativity theory in their discovery of the salient features of the relativistic worldview.
1

Introduction

When Albert Einstein first presented his theory of the electrodynamics of moving bodies (1905), he began by explaining how his kinematic assumptions led to a certain coordinate transformation, soon to be known as the "Lorentz" transformation. Along the way, the young Einstein affirmed the form-invariance of the equation of a spherical light-wave (or light-sphere covariance, for short) with respect to inertial frames of reference. The introduction of the notion of a light sphere in this context turned out to be a stroke of genius, as Einstein's idea resonated with physicists and mathematicians, and provided a way to understand the Lorentz transformation, kinematics, simultaneity, and Lorentz-covariance of the laws of physics.

A focus on the light sphere as a heuristic device provides a new perspective on the reception of relativity theory, and on the scientific community's identification of Einstein as the theory's principal architect. Acceptance of relativity theory, according to the best historical accounts, was not a simple function of having read Einstein's paper on the subject.11endnote: 1 For gradualist views of the acceptance of relativity theory see Hirosige (1968), Miller (1981), and Darrigol (1996, 2000). A detailed understanding of the elements that turned Einsteinian relativity into a more viable alternative than its rivals is, however, not yet at hand. Likewise, historians have only recently begun to investigate how scientists came to recognize Einstein as the author of a distinctive approach to relativity, both from the point of view of participant histories (Staley 1998), as well as from that of disciplinary history (Walter 1999a). The latter studies underline the need for careful analysis when evaluating the rise of Einstein's reputation in the scientific community, in that this ascent was accompanied by that of relativity theory itself.

We know, for example, that the fortunes of relativity theory improved when A. H. Bucherer (1908a) announced the results of electron-deflection experiments in line with relativist predictions. Einstein's most influential promoter, Max Planck, himself a founder of relativistic dynamics, was in Einstein's view largely responsible for the attention paid by physicists to relativity theory (Heilbron 1986, 28). Planck also praised Hermann Minkowski's four-dimensional approach to relativity, the introduction of which marked a turning-point in the history of relativity (Walter 1999a). There is more than Planck's praise to tie Einstein's theory of relativity to Minkowski's spacetime theory. Much as the lightcone distinguishes Minkowski's theory from earlier theories of space and time, the light sphere was one of the key objects that set apart Einstein's theory of relativity (as it became known around 1911) from alternative theories of the electrodynamics of moving bodies.

My account begins with Einstein's relativity paper of 1905, in which the notion of the form-invariance of the equation of a light sphere was introduced. While interest in form-invariance of the differential equation of light-wave propagation dates from the 1880s, the idea that a light sphere remains a light sphere for all inertial observers – with a universal velocity of light – was recognized as a major conceptual innovation in the fall of 1907, when it was first used to derive the Lorentz transformation. By then, the light sphere had already been employed in Paris by Henri Poincaré, along with a second figure of light, the "light ellipsoid", to illustrate an alternative to Einsteinian kinematics. Inspired by his readings of Einstein and Poincaré, Minkowski identified and exploited a third figure of light, the "lightcone", to define and illustrate the structure of spacetime. In the wake of spacetime theory, other investigators used figures of light to explore the relation of simultaneity, the properties of four-vectors, and the conformal structure of spacetime. The period of study comes to a close with the publication of Ludwig Silberstein's textbook on relativity, which was the first to feature all three figures of light. Although light-figures sparked discussion and debate until the early 1920s, Silberstein's discussion represents a point of closure on this topic, by bringing together previously-disjoint intellectual developments of the previous decade.

By following light-figures through a selection of published and archival sources during the period 1905–1914, the skills and concerns of a nascent community of relativists are brought into focus. The progress of this community's knowledge of the scope, history and foundation of relativity theory, as it related to the domains of measurement theory, kinematics, and group theory is reflected in the ways it put these new objects to use, by means of accounts both formal and discursive in nature. During the formative years of relativity, an informal, international, and largely independent group of physicists, mathematicians, and engineers, including Einstein, Paul Langevin, Poincaré, Minkowski, Ebenezer Cunningham, Harry Bateman, Otto Berg, Max Planck, Max Laue, Arthur A. Robb, and Ludwig Silberstein, employed figures of light to discover salient features of the relativistic worldview. Their contributions, and those of their critics, are considered here on their own merits, as part of an intellectual movement taking place during a period when the meaning of the theory of relativity was still negotiable, and still being negotiated.
2

Einstein's light sphere

The concepts of relative time and relative simultaneity were taken up by Einstein in the course of his relativity paper of 1905. It seems he was then unaware of Lorentz's (1904) attempt to demonstrate the form-invariance of Maxwell's equations with respect to the Lorentz transformation. By 1904, the Lorentz transformation had appeared in several journals and books (Darrigol 2000, 381). Einstein demonstrated the covariance of Maxwell's equations with respect to the Lorentz transformation, but the requirement of covariance of Maxwell's equations itself determines the transformations only up to a global factor (assuming linearity). Consequently, in order to derive the Lorentz transformation, imagination was required in order to set this factor equal to unity.

To this end, Lorentz (1904) advanced arguments of a physical nature, which failed to convince Henri Poincaré. If the transformation in question is to form a group, Poincaré argued, the troublesome factor can be assigned no value other than unity. Einstein took a different tack: for him, the determination of the global factor resulted from neither physical nor group-theoretical considerations, but from kinematic assumptions.22endnote: 2 On the assumption of linearity, see Brown (2005, 26), and for the kinematic background to Einstein's first paper on relativity, see Martínez (2009). Einstein did not let kinematics decide the matter once and for all in 1905. In a letter of September 1918 written to his friend, the anti-relativist and political assassin Friedrich Adler, Einstein considered the global factor in the Lorentz transformation to be of an empirical nature, whose value had been determined (to Einstein's satisfaction) by the results of certain electron-deflection experiments (Walter 2009, 213). Poincaré expressed his views to Lorentz by letter in May 1905; see Walter, Bolmont, and Coret, eds, 2007b, §§ 38.4, 38.5.

He embarked upon what Martínez (2009, § 7) describes as a "tortuous" algebraic derivation of the Lorentz transformation from his kinematic assumptions, which puzzled contemporary scientists and modern historians alike. The details of Einstein's derivation have been the subject of close attention, and need not be rehearsed here. Instead, I will focus on Einstein's insertion of an argument for the compatibility of his twin postulates of relativity and light-speed invariance.33endnote: 3 On the compatibility argument, see Williamson (1977). Gaps in Einstein's reasoning are apparent from a modern standpoint; see, for example, Kennedy (2005).

The compatibility of Einstein's postulates of relativity and light-speed invariance followed for Einstein from an argument which may be summarized (in slightly-updated notation) as follows. Let a spherical light-wave be transmitted from the coordinate origin of two inertial frames designated and at time . In system the light-wave spreads with velocity such that the wavefront is expressed as:

To obtain the equation of the wavefront in frame moving with velocity with respect to , we apply a transformation of coordinates from to , depending on an as-yet-undetermined factor , which is a function of :

where . Applying (2) to (1), Einstein found:

Since (1) goes over to (3) via the transformation (2), Einstein observed, the light-wave that is spherical in is also spherical in , propagates with the same velocity , and consequently, "our two basic principles are mutually compatible" (Einstein 1905, § 3, 901).

Einstein's compatibility demonstration addressed one of the more immediate objections to be raised against his theory: that the propagation of light implied the existence of a substrate. This substrate, known as the ether, was common to the electron theories of Lorentz, Larmor, Bucherer-Langevin, and Abraham. Einstein's axiomatic approach to the electrodynamics of moving bodies did not destroy the conviction that a substrate was required for light propagation. On the contrary, Einstein's twin postulates of relativity and lightspeed invariance rendered his theory all the more suspect. Arnold Sommerfeld, for example, was impressed by Einstein's "genial" theory, but worried that something "almost unhealthy lies in this unconstruable and intuition-free dogma".44endnote: 4 Sommerfeld to H.A. Lorentz, 26 Dec. 1907, in Kox, ed. (2008, § 165). For Richard Tolman (1910, 28, n. 1), Einstein's light postulate expressed "seemingly contradictory ideas" of relativity and independence of propagation velocity of light from that of its source.

Tolman's concern over the compatibility of Einstein's postulates stemmed in part from the fact that the propagation velocity of light is an extraordinary velocity in Einstein's kinematics. While a spherical light-wave is form-invariant for inertial frames in Einstein's scheme, the form of other physical objects is frame-dependent. A rigid sphere of matter with radius at rest in frame , for example, is judged by an observer in motion along the -axis to have the flattened form of an ellipsoid of revolution with axes . Light-waves had a special role to play in Einstein's theory, being essentially different from other physical objects. As Einstein put it, the speed of light in his theory "plays the role of an infinitely great speed", and it renders "senseless" the notion of hyperlight velocities (Einstein 1905, § 4, 903).

How did Einstein's compatibility argument for his postulates of relativity and constant lightspeed sit with his contemporaries? At least one of Einstein's readers, the Cambridge-trained mathematician Ebenezer Cunningham (1881–1977) was intrigued by Einstein's approach. A student of St. John's College, where his director of studies was the influential analytic geometer H. F. Baker, Cunningham was Senior Wrangler in 1902.55endnote: 5 For an assessment of Baker's rise to prominence among Cambridge geometers, see Barrow-Green and Gray (2006). Cunningham lectured on mathematics in Liverpool from 1904, and was joined there in 1906 by another Senior Wrangler (1903), Harry Bateman (1882–1946), who had studied at Trinity College. In 1907, Cunningham left Liverpool to lecture on applied mathematics at University College London, and in 1911, he returned to St. John's as a Fellow and lecturer in mathematics.66endnote: 6 See McCrea (1978), and John Heilbron's interview with Cunningham (1963).

Among British theorists, relativity theory had few proponents, if any, when Cunningham first took it up.77endnote: 7 A proponent of Einstein's theory is understood here to be an individual seeking either to support or to extend any of the novel ideas contained in Einstein's 1905 paper. On the British reception of relativity, see Goldberg (1970), Sánchez-Ron (1987), and Warwick (2003). Cunningham naturally read Einstein in his own fashion, drawing on the intellectual tools at his disposal. He understood Einstein's theory to be consistent with the existence of multiple ethers, provided that every inertial frame is associated with an ether.88endnote: 8 See Goldberg (1970), and Hunt (1986). Inspired by Larmor's electron theory,99endnote: 9 Cunningham noted a personal communication with Larmor, to the effect that while a proof of the Lorentz transformation's validity for electron theory to second order of approximation in appeared in the latter's Æther and Matter (1900), Larmor had "known for some time that [the Lorentz transformation] was exact" (Cunningham 1907, 539). Cunningham's multiple-ether view of relativity recalls the view of mechanics proposed by the Leipzig mathematician Carl Neumann. Newton's laws of mechanics, Neumann observed, give one the freedom to consider any inertial frame to be at rest with respect to a fixed set of coordinate axes he called the "Body Alpha".1010endnote: 10 Cunningham (1912) recalled this fact, without mentioning Neumann. Neumann described the role assumed by the Body Alpha in the general theory of motion to be similar to that of the luminiferous ether in the theory of optical phenomena (Neumann, 1870, 21). Views equivalent to Cunningham's, but stripped of reference to the ether, were subsequently advanced by Minkowski (1909, 79) and Laue (1911a, 33). Cunningham's view, based on multiple ethers, found employment throughout the 1920s, thanks to Sommerfeld's celebrated textbook Atombau und Spektrallinien (1919, 319).

Cunningham's first paper on relativity set out to overturn an objection raised by Max Abraham with respect to Lorentz's electron theory. Abraham (1905, 205) believed that energy conservation required a fundamental modification of Lorentz's deformable electron model, in the form of a supplemental internal, non-electromagnetic source of energy. Cunningham challenged Abraham's (frame-dependent) definition of electromagnetic momentum, and found that, under the same quasistationary-motion approximation, and an alternative momentum definition, the problem vanishes. He concluded that no non-electromagnetic energy was required by Lorentz's electron model, which remained for him a possible foundation for a "purely electromagnetic theory of matter."1111endnote: 11 Cunningham's conclusion agrees with that reached later by Fermi; see Rohrlich (2007, 17), Janssen and Mecklenburg (2006).

Along the way, Cunningham assumed that if Lorentz's deformable electron is spherical when at rest, when put in motion and measured by comoving observers, it will remain spherical. But when measured with respect to a frame at rest, the moving electron will have a "spheroidal shape as suggested by Lorentz" (Cunningham 1907, 540). Cunningham took this suggestion a step further, arguing that a light-wave would appear spherical to all inertial observers, in agreement with Einstein on this point (and with reference to Einstein's relativity paper of 1905).

Next, Cunningham took an important step toward the legitimation of the concept of light-sphere covariance, as Goldberg (1970, 114) first noticed. Einstein's demonstration of the Lorentz transformation could be reduced to a handful of steps, Cunningham realized, by requiring the covariance of the light-sphere equation (3) with respect to this transformation. Cunningham's requirement of covariance of the light-sphere equation entailed the relativity of space and time:
For it is required, among other things, to explain how a light-wave traveling outwards in all directions with velocity relative to an observer , may at the same time be traveling outwards in all directions with the same velocity relative to an observer moving relative to with velocity . This can clearly not be done without some transformation of the space and time variables of the two observers. (Cunningham 1907, 544)
Cunningham went on to observe that Alfred Bucherer's recent calculation of electron mass (Bucherer 1907) was mistaken, because Bucherer did not "take into account this necessary modification of coordinates".1212endnote: 12 Cunningham (1907, 547). Both Cunningham and Planck failed to understand Bucherer's theory, which allowed for closed links between electrons; see Darrigol (2000, 371). Unconvinced by Cunningham's lesson, Bucherer (1908b) retorted quite rightly that light-sphere covariance was not required for the explanation of "any known fact of observation."1313endnote: 13 According to Balàsz (1972), Bucherer's remark shows that he was "confused about the basic problem of relativity", in that he failed to "realize the connection of this problem with the Michelson-Morley experiment and its relation to the transformation laws." Yet the Lorentz-FitzGerald contraction explains on its own the null result of the Michelson-Morley experiment, as Bucherer and contemporary theorists knew quite well.
Bucherer's complaint of inutility notwithstanding, Cunningham's clever and economical approach to deriving the Lorentz transformation represented a significant advance over Einstein's cumbersome approach via ideal rods and clocks, although he did not realize at first just what he had accomplished. This much may be gathered from his response to Bucherer's complaint, published in March 1908:
May I explain that I did not wish to assert that [light-sphere covariance] was required by any known fact of observation, but that I took it to be involved in the statement of the principle. I may have read more into it more than was intended, but if the Maxwell equations are assumed to hold when referred, as occasion requires, to various frames of reference moving relatively to one another, the deduction cannot be escaped that the velocity of propagation of a spherical wave will be found to be exactly the same, whatever the frame of reference.
With Bucherer's insistent prompting, Cunningham recognized not only that lightspeed invariance was a convention, but that he had freely interpreted Einstein's theory.
A few months after Cunningham's original paper appeared, Einstein employed the latter's method in an invited review of relativity theory, making Cunningham the first British contributor to what was later known as Einstein's theory of relativity. Einstein did not acknowledge Cunningham's proof, however, and he may well have come up with it on his own.1414endnote: 14 See Einstein (1907, § 3); reed. in Stachel et al., eds. (1989, vol. 2, Doc. 47). Cunningham's paper appeared in the October 1907 issue of the Philosophical Magazine, and Einstein's review article was submitted for publication in Johannes Stark's Jahrbuch der Radioaktivität und Elektronik on 4 December 1907.
Further contributions to relativity from Cunningham and Bateman, making novel use of the light sphere, were still to come in 1908–1909. Before examining this work (in § 8), it will be useful to review first the light-figures produced by Poincaré and Minkowski, whose four-dimensional approach to relativity provided the basis for the later papers of Cunningham and Bateman.
3

Poincaré and the Lorentz group
4

Langevin's electron wake

Paul Langevin (1872–1946) was a former student of Poincaré, whose 1896 lectures at the Paris Faculty of Sciences on Sommerfeld's theory of diffraction he followed.1919endnote: 19 See Langevin's notes of Poincaré's lectures, Fonds Langevin, box 123, Bibliothèque de l'École supérieure de physique et de chimie industrielle, Paris. Langevin had also studied at the Cavendish Laboratory, and his novel theory of the electron drew on several sources, especially Joseph Larmor's Æther and Matter (1900), J. J. Thomson's Notes on Recent Researches (1893), and George Searle's calculation of the energy of a Heaviside ellipsoid (Searle 1897). He introduced a distinction between the velocity fields and acceleration fields of the electron, and published a graphical depiction of the velocity waves of a spherical electron in motion. This led in turn to a geometrical derivation of the field of a Heaviside ellipsoid, introduced by Heaviside in 1889, and glossed by J. J. Thomson in 1893 (op. cit.).

Langevin was concerned, as the title of his paper suggests, with the source of electron radiation and the inertia of the electron. He supposed that electron radiation was due entirely to acceleration. This stipulation allowed him to calculate the energy of an electron in uniform motion. The "electromagnetic mass" of such an electron was given to be a function of the "sillage", or wake of the electron in motion. The wake was composed of "velocity waves" propagating, in Langevin's picturesque language, "like the waves emanating from the front of a ship" (Langevin 1905, 171). The electron's electromagnetic mass thus depended on the postulated charge distribution of the electron; Langevin considered both a uniform surface charge, and a uniform volume charge.
The distinction between velocity and acceleration waves made here by Langevin recalls the retarded potentials introduced to electrodynamics by his former teacher Henri Poincaré (1891), following Lorenz (1867). It recalls as well the formulation of the potentials for a moving point charge due to Alfred Liénard (1898) and Emil Wiechert (1900). Langevin's theory, like Lorentz's electron theory, assumed an ether at absolute rest. According to Langevin, electrons traveled through the ether at velocities less than that of light, generating velocity waves and, in the case of non-inertial motion, acceleration waves. Both sorts of waves propagated in the ether with the speed of light, while velocity waves dissipated rapidly, such that only acceleration waves could be detected far from the electron.2020endnote: 20 For details on Langevin's paper, see Miller (1973).
5

Poincaré's light ellipse
6

Minkowski's lightcone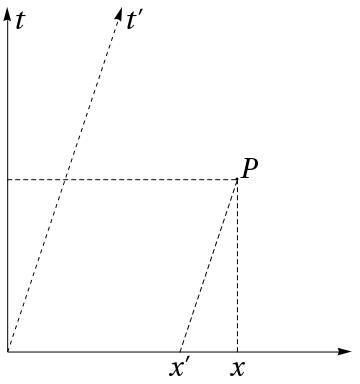 7

Alfred A. Robb: repurposing the lightcone

A physicist trained in Belfast, Cambridge, and Göttingen, Alfred A. Robb (1873–1936), found the means in Minkowski's spacetime geometry to realize an "optical geometry of motion", in which he could dispense with Einstein's ideal clocks and rigid rods (Robb, 1911). Robb, described by Larmor (1938, 320) as an "unremarkable" graduate of St. John's College, Cambridge, was ranked fifty-second (ex aequo) in the 1897 Mathematical Tripos.4949endnote: 49 Tanner (1917, 571). I thank J. Barrow-Green for pointing me to this source. He went on to write a theoretical study of the Zeeman effect in Göttingen under W. Voigt's direction, published in the Annalen der Physik (1904), after which he returned to St. John's, and joined the Cambridge Philosophical Society.5050endnote: 50 Robb was admitted to the Society on 27 Nov. 1905 (Proceedings of the Cambridge Philosophical Society 16, 1912, p. 16).

In his doctoral thesis, Robb took up one of the more puzzling problems facing physicists in the early twentieth century: to explain the patterns of magnetic splitting of atomic spectral lines, known then as the complex Zeeman effect. Starting from Lorentz's Nobel-prize-winning theory of doublet and triplet lines (1897), Robb introduced elastic forces between electron pairs, triplets, and quadruplets. To obtain agreement with observation, he introduced a geometric constraint, requiring electrons to oscillate on the surface of a cone. As he wrote to Larmor, the "restrictions are so peculiar that one may be inclined to doubt the theory", and indeed, Robb's scheme was later described by Lorentz as both "very ingenious" and "so artificial".5151endnote: 51 Robb to Larmor, 6 March 1904, Larmor Papers, St. John's College Library; Lorentz (1909, 115). Voigt sent Lorentz a copy of Robb's dissertation; see Lorentz to Voigt, 18 Dec. 1904, in Kox (2008, § 121).

Much like his theory of the complex Zeeman effect, Robb's optical geometry was both ingenious, and unattractive to physicists. Yet Robb's geometry laid the groundwork for a theory of time and space that was later hailed by the likes of Hermann Weyl (1922, 209). To build his optical geometry, Robb borrowed some basic insights from Minkowski, and transformed them as needed. For example, he employed Minkowski's trigonometric definition of velocity , in a real hyperbolic form, such that , and called the "rapidity" of the particle.5252endnote: 52 In a letter to Larmor of 18 Jan. 1911, the Cambridge mathematician A. E. H. Love wrote that he had "noted explicitly in writing" to Robb that one of his formulas was from Lobachevski geometry, and that "space might be saved by bringing this fact in" (Larmor Papers, St. John's College Library). On Robb's use of hyperbolic geometry, see Walter (1999b). Taking a cue from the Minkowski spacetime diagram, Robb described particle velocity with respect to the index-axis via the relation , and expressed the lightcone in terms of orthogonal axes :

where the -axis represents a temporal index, the vertex coincides with the origin, and the speed of light is unity.

For purposes of illustration, Robb followed Minkowski's convention on units, such that the path of light in vacuum is described for any inertial observer by a line forming an angle of with the -axis. In the place of Einstein's notion of distant simultaneity, Robb introduced a more restrictive definition, whereby the emission or reception of two or more light signals is simultaneous if and only if it is observed at a single spatial location at a single instant of time by a colocated, inertial observer. Simultaneity is an absolute notion in Robb's scheme, and the distance to a particle of matter in arbitrary motion is determined by round-trip light time-of-flight between the inertial observer and the particle.

Light-rays play a fundamental role in Robb's geometry of phenomenal space, as the title of his booklet suggests. Issues of clock synchronization do not arise here, nor is there any question of transforming measured quantities. However, Robb was careful to show that according to his theory, lengths of material bodies "appear to be shortened in the direction of motion", a result in agreement with other relativity theories.5353endnote: 53 For Robb the "appearance" of contraction was a necessary consequence of light time-of-flight measurements. Robb, Einstein, and their contemporaries focused on the instantaneous form of moving objects, in an approach distinct from the one adopted in the late 1950s. The latter studies characterized what Roger Penrose (1959) referred to as the "photographic" appearance of a moving object. Moreover, to demonstrate this result, Robb implicitly borrowed Poincaré's idea of using a light shell as a metric surface. Yet Robb openly distanced himself from Poincaré's conventionalist philosophy of geometry:
Speaking of the different "Geometries" which have been devised, Poincaré has gone so far as to say that : "one Geometry cannot be more true than another; it can only be more convenient." [..] In reply to this; it must be remembered that the language of Geometry has a certain fairly well defined physical signification which in its essential features must be preserved if we are to avoid confusion.5454endnote: 54 Robb (1911, 1), original emphasis. Cf. Poincaré, Science and Hypothesis (1905a, 50).
From the latter remark, Robb's philosophical position appears closer to Einstein's contemporary view of a physical geometry realized by ideal rigid rods and clocks, than to Poincaré's conventionalist doctrine, which ruled out any empirical determination of the geometry of phenomenal space. But as mentioned above, Robb did not admit Einstein's distant simultaneity, rigid rods, or ideal clocks.
Robb's philosophy of geometry was an innovative response to the relativity theories of Einstein, Poincaré, and Minkowski, that he developed from around 1910 until the end of his life.5555endnote: 55 For appreciations of Robb's geometry, see Briginshaw (1979), and Cat (2016). In his first publication on geometry (1911), Robb's philosophy found expression in an original analysis of the form of a reflected light-shell for an observer in motion. His approach to this problem employed a diagram of a three-dimensional space, redrawn here as Fig. 10; it may be summarized briefly as follows. An observer in uniform motion along the -axis with velocity transmits a number of light signals in the -plane at an instant of time with index . These signals are reflected from a ring of comoving particles surrounding the observer in such a way that the signals arrive at the observer's location at point at a single instant of time of index . Neglecting one spatial dimension, Robb's diagram shows a future-lightcone from the origin in -space that intersects with a past-lightcone with vertex at point . The intersection of the two lightcones defines an ellipse on an oblique plane, which is not illustrated in Robb's diagram, but which contains a diagonal of the rectangle in Fig. 10, and forms an angle with the -axis. By way of comparison, in Minkowski three-dimensional spacetime the latter plane corresponds to a spacelike plane of an observer in motion with velocity .
Iteration of the signalling process produces a representation of an elliptic cylinder of axis , the equation for which Robb derived. From the perspective of an observer at rest with respect to the origin, Robb argued, the "apparent form of this ring of particles" is given by a section of the cylinder in the -plane. In other words, the apparent form, for an observer in the rest frame, of the (reflected) light-shell of an observer in motion is an ellipse of eccentricity , the minor axis of which is aligned with the ring's direction of motion. Naturally, Robb concluded that the length of objects in motion, when measured by light time-of-flight, appears to a resting observer to be contracted in the direction of motion.
Although Robb did not say as much, his observer in motion is in a position to conclude that the reflecting ring of particles forms a circle. If Robb's observer assumes, with Poincaré, that her concrete rods are Lorentz-contracted, she may correctly infer that her light shell is an elongated ellipsoid, the dimensions of which agree, moreover, with Poincaré's light-ellipsoid. Robb's measurement protocol, however, featured no such concrete rods. Furthermore, unlike Poincaré, Robb admitted no privileged frame of reference. Consequently, Robb could no more uphold Poincaré's homotheticity of light-ellipsoids than he could affirm Einstein's covariance of light spheres. His preferred figure of light was the lightcone.
In late 1910, Robb had submitted a like-titled work for publication in the Proceedings of the London Mathematical Society (LMS).5656endnote: 56 LMS Council Minutes, 10 Nov. 1910, LMS archives. One of the Society's two secretaries (along with J. H. Grace), A. E. H. Love asked Robb to "withdraw his paper temporarily", in order to address the criticisms of a referee. Robb appears to have complained about Love's request to his former teacher at St. John's, and LMS council member, Joseph Larmor. In response to Larmor's query, Love wrote that a referee had found the geometrical part of Robb's paper to be "extremely illogical", and had recommended rejection. Love noted that the theory of relativity also entered into the referee's assessment: Robb's time index formula was "suggested by Einstein's work", and furthermore, the referee felt "it might be necessary to adopt Einstein's assumptions in order to have some basis for Robb's formula."5757endnote: 57 Love to Larmor, 18 Jan. 1911, op. cit. Sedleian Chair of Natural Philosophy at Oxford since 1899, Love was Secretary (i.e., managing editor) of the LMS from 1890 to 1910. The LMS reviewer's critical assessment of Robb's work was echoed in softer terms by the Cambridge logician P. E. B. Jourdain (1879–1919). According to Jourdain's published abstract, the formulas in Robb's booklet agreed with those of Einstein, Minkowski, and Sommerfeld, but the concepts he employed, including that of the index of a particle, were such that no summary could be provided.5858endnote: 58 Jahrbuch über die Fortschritte der Mathematik 43, 1911, p. 559. A succinct summary of Robb's index concept is provided by Barrow-Green and Gray (2006).
From these assessments, it appears that Robb's theory was seen in England as a confusing, mathematically-inept variant of Einstein's theory. The decision by the LMS council to follow Grace and Love's recommendation against publication of Robb's manuscript meant his theory would not benefit from a stamp of authority from Britain's leading mathematicians and theoretical physicists.5959endnote: 59 LMS Council Minutes, 9 Feb. 1911, LMS archives. Robb's rejected manuscript then became a booklet, the preface to which, dated 13 May 1911, suggests that its author was still smarting from the LMS council's negative decision:
From the standpoint of the pure mathematician Geometry is a branch of formal logic, but there are more aspects of things than one, and the geometrician has but to look at the name of his science to be reminded that it had its origin in a definite physical problem.
That problem in an extended form still retains its interest.
The italics in the passage above are Robb's, underlining the triad: geometry–logic–physics. Beyond the expected retort to the censorious pure mathematician, Robb's preface affirmed his identity as a "geometrician", and his consequent right to "extend" the domain of application of geometry beyond that of both logic and the measurement of length intervals in the phenomenal space of physics.
From the LMS council's rejection of Robb's theory of relativity, one gathers that this theory had its detractors. But as mentioned above, the theory had its admirers, as well. One of these admirers was Ludwig Silberstein (1872–1948). A former doctoral student of Max Planck in Berlin, Silberstein wrote The Theory of Relativity (1914), one of the first two textbooks on the subject to be published in England, with Cunningham's The Principle of Relativity (1914). A lecturer in mathematical physics in Rome since 1903, Silberstein based his textbook on lectures delivered at University College London in 1912–1913. In his preface, Silberstein explained his wish "to trace the connexion of the modern theory with the theories and ideas that preceded it". The modern theory Silberstein referred to here was essentially that of Einstein and Minkowski.
In a chapter of his textbook entitled "Various Representations of the Lorentz Transformation", Silberstein recommended Minkowski diagrams, described as "very advantageous, especially for the trained geometer of our days" (Silberstein, 1914, 131). His overview of the "geometric representation" of the Lorentz transformation began with a two-dimensional spacetime diagram, illustrated by a figure showing two pairs of coordinate axes, the conjugate hyperbolas and , and their asymptotes. He recalled that for any real number , the two families of hyperbolas and are Lorentz-covariant. Extending his arguments to three spacetime dimensions, and then four, Silberstein observed (p. 139) that the spacelike hypersurface () intersects the hyperboloid in a unit sphere, . A non-zero rotation of this hypersurface about the origin in a plane orthogonal to the -axis cuts the hyperboloid in an ellipsoid, resulting in a primed space, , and an assorted orthogonal axis, . Silberstein continued:
Take the semi-diameters of this ellipsoid as the new units of length measured from the origin along any direction in the -space. Then the Lorentz transformation, from to , will be completed, and the new metric surface which, from the -point of view, is an ellipsoid of revolution will for the -standpoint become a sphere,
According to Silberstein's analysis, the intersection of a -constant hypersurface with a Lorentz-covariant hyperboloid in spacetime is an ellipsoid of revolution in the -frame, and a sphere in the -frame.
8

Applications of the light sphere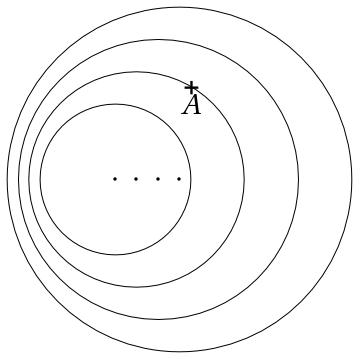 9

Light-figure skepticism
10

Discussion

Introduced without fanfare by Einstein in connection with his postulates of relativity and universal lightspeed invariance, the notion of light-sphere covariance engaged the imagination of theorists and experimentalists alike. A rival light-shell theory was soon proposed, in the form of Poincaré's light-ellipsoid and assorted two-dimensional diagrams. At the time, Poincaré's theory of the light-ellipsoid had much to recommend it, including a privileged coordinate frame, and a simple diagram-based derivation of the Lorentz transformation. Poincaré did not seek to publish his derivation, however, and soon Cunningham and Einstein published their own equally-elementary algebraic derivations of the Lorentz transformation, based on light-sphere covariance.

Einstein's kinematics lacked a visually-intuitive model until 1908, when Minkowski proposed a model of spacetime that subtended an elementary geometric derivation of the Lorentz transformation, albeit a derivation that Minkowski did not see fit to publish himself. Minkowski did not discuss the light sphere directly, either. Instead, he presented the Lorentz-covariance of the light-wave equation as a compelling formal argument in favor of his four-dimensional approach to physics, and cast light-sphere covariance in four-dimensional language, introducing the lightcone structure of spacetime. His expression of the Lorentz transformation as a matrix inspired investigations by Cunningham and Bateman of the conformal covariance of Maxwell's equations, which suggested the possibility of a generalization of the principle of relativity to frames in non-inertial motion. The lightcone itself inspired Robb's theory of space and time, intended originally as an alternative to Einsteinian relativity.

The idea of light-sphere covariance travelled across both national and disciplinary boundaries, being carried initially by journals of physics, philosophy, and general science in Germany and Great Britain. When Max Laue wrote his treatise on the principle of relativity (1911a), he passed over the contributions of Cunningham and Bateman, and drew instead on the work of a fellow German Privatdozent, Otto Berg. Cunningham and Bateman were colleagues for a year, while Bateman and Laue heard lectures by Hilbert and Minkowski in Göttingen. All of these scientists were young men; only Berg had passed thirty. None held a permanent university position at the time of the contributions studied here, and all but Berg went on to obtain academic appointments.7979endnote: 79 Berg went to work for the Siemens-Halske engineering firm in Berlin, where he co-discovered element seventy-five (Rhenium) with Walter Noddack and Ida Tacke.

According to the recollections of Philipp Frank (1947, 206), Einstein remarked to him that he could "hardly understand Laue's book." Frank read Einstein's comment as a reflection on the mathematical sophistication of Laue's treatise, but the mathematics employed by Laue were certainly not new to Einstein. In light of the several contributions to relativity theory and the theory of the electron after 1905 reviewed in this chapter, I suggest an alternative reading of Einstein's offhand comment to Frank on Laue's treatise: Einstein found the content of Laue's book to stem in large part from the work of others; as such, for Einstein Laue's book was not incomprehensible, just foreign to his own way of thinking about relativity.

Although the concept of light-sphere covariance crossed national and disciplinary boundaries with apparent ease, it did not meet with universal assent. There were those, like Bucherer, who found Einstein's argument in favor of light-sphere covariance to be unconvincing. The special evidentiary status assigned to the behavior of lightwaves in Einstein's theory troubled physicists like von Ignatowsky and Wiechert, who sought to treat electromagnetic waves in the same manner as other propagation phenomena. The case of Poincaré and Robb is particularly instructive in this regard, in that they both shared Einstein's high epistemic regard for lightwaves, but deplored – for different philosophical reasons – Einstein's metric interpretation of the light sphere.

Four decades after the events described in this chapter, Laue wrote about the "somewhat excessive polemic" against relativity as a consequence of "lack of insight" on the part of the theory's opponents (Laue 1947, 68). The form of a light pulse for moving observers was a topic about which leading theorists disagreed, as we have seen. Laue also recalled a "decisive turn" for relativity theory, triggered by Einstein's view of the equal epistemic value of space and time measurements among inertial frames of reference. Closely related to Einstein's belief, the derivation of the Lorentz transformation via covariance of the light-sphere equation stabilized interpretations of the transformation along Einsteinian lines, and contributed powerfully to the emergence of a unified doctrine of the physics of inertial frames. One consequence of this movement was a heightened recognition of Einstein as the principal architect of the theory of relativity, as expressed by Laue's 1911 treatise and its six re-editions.




Acknowledgments
Key points of this paper were elaborated in discussions with Olivier Darrigol, Tilman Sauer, June Barrow-Green, and David Rowe; their help is much appreciated. The paper benefits from the expert assistance of Kathryn McKee and Fiona Colbert of St. John's College, whom I thank most kindly. Citations of the Joseph Larmor Correspondence are by permission of the Master and Fellows of St. John's College, Cambridge. Permission to quote from the Council Minutes of the London Mathematical Society is gratefully acknowledged. I thank the Niedersächsiche Staats- und Universitätsbibliothek Göttingen for authorizing publication of the diagram in Fig. 9. I am grateful for the support of the Dibner Rare Book and Manuscript Library, and to its staff members Lilla Vekerdy and Kirsten van der Veen for their able assistance during my residence in 2013. A preliminary version of the paper was published in 2011 on PhilSci-Archive.