The historical origins of spacetime
Published in A. Ashtekar and V. Petkov (eds)
The Springer Handbook of Spacetime
Springer: Berlin, 2014, chapter 2, 27–38
Introduction
The idea of spacetime investigated in this chapter, with a view toward understanding its immediate sources and development, is the one formulated and proposed by Hermann Minkowski in 1908. Until recently, the principle source used to form historical narratives of Minkowski's discovery of spacetime has been Minkowski's own discovery account, outlined in the lecture he delivered in Cologne, entitled "Space and time" [27]. Minkowski's lecture is usually considered as a bona fide first-person narrative of lived events. According to this received view, spacetime was a natural outgrowth of Felix Klein's successful project to promote the study of geometries via their characteristic groups of transformations. Or as Minkowski expressed the same basic thought himself, the theory of relativity discovered by the physicists in 1905 could just as well have been proposed by some late-nineteenth-century mathematician, by simply reflecting upon the groups of transformations that left invariant the form of the equation of a propagating light wave.
Minkowski's publications and research notes provide a contrasting picture of the discovery of spacetime, in which group theory plays no direct part. In order to relate the steps of Minkowski's discovery, I begin with an account of Poincaré's theory of gravitation, where Minkowski found some of the germs of spacetime. Poincaré's geometric interpretation of the Lorentz transformation is examined, along with his reasons for not pursuing a four-dimensional vector calculus. In the second section, Minkowski's discovery and presentation of the notion of a worldline in spacetime is presented. In the third and final section, Poincaré's and Minkowski's diagrammatic interpretations of the Lorentz transformation are compared.
2.1

Poincaré's theory of gravitation

In the month of May, 1905, Henri Poincaré (1854–1912) wrote to his Dutch colleague H. A. Lorentz (1853–1928) to apologize for missing the latter's lecture in Paris, and also to communicate his latest discovery, which was related to Lorentz's recent paper [22] on electromagnetic phenomena in frames moving with sublight velocity [49, §38.3]. In [22], Lorentz had shown that the form of the fundamental equations of his theory of electrons is invariant with respect to the coordinate transformations:

where

The latter transformation was understood to compose with a transformation later known as a "Galilei" transformation: , . (Both here and elsewhere in this chapter, original notation is modified for ease of reading.)

The essence of Poincaré's discovery in May 1905, communicated in subsequent letters to Lorentz, was that the coordinate transformations employed by Lorentz form a group, provided that the factor is set to unity. Poincaré performed the composition of the two transformations to obtain a single transformation, which he called the "Lorentz" transformation:

In his letters to Lorentz, Poincaré noted that while he had concocted an electron model that was both stable and relativistic, in the new theory he was unable to preserve the "unity of time", i.e., a definition of duration valid in both the ether and in moving frames.

The details of Poincaré's theory [31] were published in January, 1906, by which time Einstein had published his own theory of relativity [8], which employed the "unified" form of the Lorentz transformation (2.2), and vigorously embraced the relativity of space and time with respect to inertial frames of motion. The final section of Poincaré's memoir is devoted to a topic he had neglected to broach with Lorentz, and that Einstein had neglected altogether: gravitation.

If the principle of relativity was to be universally valid, Poincaré reasoned, then Newton's law of gravitation would have to be modified. An adept of the group-theoretical understanding of geometry since his discovery of what he called "Fuchsian" functions in 1880 [14], Poincaré realized that a Lorentz transformation may be construed as a rotation about the origin of coordinates in a four-dimensional vector space with three real axes and one imaginary axis, preserving the sum of squares:

where Poincaré set . Employing the substitution , and drawing on a method promoted by Sophus Lie and Georg Scheffers in the early 1890s [21], Poincaré identified a series of quantities that are invariant with respect to the Lorentz Group. These quantities were meant to be the fundamental building blocks of a Lorentz-covariant family of laws of gravitational attraction. Neglecting a possible dependence on acceleration, and assuming that the propagation velocity of gravitation is the same as that of light in empty space, Poincaré identified a pair of laws, one vaguely Newtonian, the other vaguely Maxwellian, that he expressed in the form of what would later be called four-vectors.

In the course of his work on Lorentz-covariant gravitation, Poincaré defined several quadruples formally equivalent to four-vectors, including definitions of radius, velocity, force, and force density. The signs of Poincaré's invariants suggest that when he formed them, he did not consider them to be scalar products of four-vectors. This state of affairs led at least one contemporary observer to conclude – in the wake of Minkowski's contributions – that Poincaré had simply miscalculated one of his Lorentz invariants [48, 203, 238].

Poincaré's four-dimensional vector space attracted little attention at first, except from the vectorist Roberto Marcolongo (1862–1945), Professor of Mathematical Physics in Messina. Redefining Poincaré's temporal coordinate as , Marcolongo introduced four-vector definitions of current and potential, which enabled him to express the Lorentz-covariance of the equations of electrodynamics in matricial form [23]. Largely ignored at the time, Marcolongo's paper nonetheless broke new ground in applying Poincaré's four-dimensional approach to the laws of electrodynamics.

Marcolongo was one of many ardent vectorists active in the first decade of the twentieth century, when vector methods effectively sidelined the rival quaternionic approaches [5, 259]. More and more theorists recognized the advantages of vector analysis, and also of a unified vector notation for mathematical physics. The pages of the leading journal of theoretical physics, the Annalen der Physik, edited by Paul Drude until his suicide in 1906, then by Max Planck and Willy Wien, bear witness to this evolution. Even in the pages of the Annalen der Physik, however, notation was far from standardized, leading several theorists to deplore the field's babel of symbolic expressions.

Among the theorists who regretted the multiplication of systems of notation was Poincaré, who employed ordinary vectors in his own teaching and publications on electrodynamics, while ignoring the notational innovations of Lorentz and others. In particular, Poincaré saw no future for a four-dimensional vector calculus. Expressing physical laws by means of such a calculus, he wrote in 1907, would entail "much trouble for little profit" [13, 438].

This was not a dogmatic view, and in fact, some years later he acknowledged the value of a four-dimensional approach in theoretical physics [51, 210]. He was already convinced that there was a place for -dimensional geometries at the university. As Poincaré observed in the paper Gaston Darboux read in his stead at the International Congress of Mathematicians in Rome, in April, 1908, university students were no longer taken aback by geometries with "more than three dimensions" [32, 938].

Relativity theory, however, was another matter for Poincaré. Recently-rediscovered manuscript notes by Henri Vergne of Poincaré's lectures on relativity theory in 1906–1907 reveal that Poincaré introduced his students to the Lorentz Group, and taught them how to form Lorentz-invariant quantities with real coordinates. He also taught his students that the sum of squares (2.3) is invariant with respect to the transformations of the Lorentz Group. Curiously, Poincaré did not teach his students that a Lorentz transformation corresponded to a rotation about the origin in a four-dimensional vector space with one imaginary coordinate. He also neglected to show students the handful of four-vectors he had defined in the summer of 1905. Apparently for Poincaré, knowledge of the Lorentz Group and the formation of Lorentz-invariant quantities was all that was needed for the physics of relativity. In other words, Poincaré acted as if one could do without an interpretation of the Lorentz transformation in four-dimensional geometry.

If four-dimensional geometry was superfluous to interpretation of the Lorentz transformation, the same was not true for plane geometry. Evidence of this view is found in Vergne's notes, which feature a curious figure that I'll call a light ellipse, redrawn here as Figure 2.1. Poincaré's light ellipse is given to be the meridional section of an ellipsoid of rotation representing the locus of a spherical light pulse at an instant of time. It works as follows: an observer at rest with respect to the ether measures the radius of a spherical light pulse at an instant of absolute time (as determined by clocks at rest with respect to the ether). The observer measures the light pulse radius with measuring rods in uniform motion of velocity . These flying rods are Lorentz-contracted, while the light wave is assumed to propagate spherically in the ether. Consequently, for Poincaré, the form of a spherical light pulse measured in this fashion is that of an ellipsoid of rotation, elongated in the direction of motion of the flying rods. (A derivation of the equation of Poincaré's light ellipse is provided along these lines in [6].)
The light ellipse originally concerned ether-fixed observers measuring a locus of light with clocks at absolute rest, and rods in motion. Notably, in his first discussion of the light ellipse, Poincaré neglected to consider the point of view of observers in motion with respect to the ether. In particular, Poincaré's graphical model of light propagation does not display relativity of simultaneity for inertial observers, since it represents a single frame of motion. Nonetheless, Poincaré's light ellipse was applicable to the case of observers in uniform motion, as he showed himself in 1909. In this case, the radius vector of the light ellipse represents the light-pulse radius at an instant of "apparent" time , as determined by comoving, light-synchronized clocks, and comoving rods corrected for Lorentz-contraction. Such an interpretation implies that clock rates depend on frame velocity, as Einstein recognized in 1905 in consequence of his kinematic assumptions about ideal rods and clocks [8, 904], and which Poincaré acknowledged in a lecture in Göttingen on 28 April, 1909, as an effect epistemically akin to Lorentz-contraction, induced by clock motion with respect to the ether [34, 55].
Beginning in August 1909, Poincaré repurposed his light ellipse diagram to account for the apparent dilation of periods of ideal clocks in motion with respect to the ether [33, 174]. This sequence of events raises the question of what led Poincaré to embrace the notion of time deformation in moving frames, and to repurpose his light ellipse? He didn't say, but there is a plausible explanation at hand, that I will return to later, as it rests on events in the history of relativity from 1907 to 1908 to be discussed in the next section.
2.2

Minkowski's path to spacetime
2.3

Spacetime diagrams

One way for Minkowski to persuade physicists of the value of his spacetime approach to understanding physical interactions was to appeal to their visual intuition [11]. From the standpoint of visual aids, the contrast between Minkowski's two publications on spacetime is remarkable: where "The basic equations" is bereft of diagrams and illustrations, Minkowski's Cologne lecture makes effective use of diagrams in two and three dimensions. For instance, Minkowski employed a two-dimensional spacetime diagrams to illustrate FitzGerald-Lorentz contraction of an electron, and the lightcone structure of spacetime (see Figure 2.3).
Minkowski's lecture in Cologne, entitled "Space and time", offered two diagrammatic readings of the Lorentz transformation, one of his own creation, the other he attributed to Lorentz and Einstein. One of these readings was supposed to represent the kinematics of the theory of relativity of Lorentz and Einstein. In fact, Minkowski's reading captured Lorentzian kinematics, but distorted those of Einstein, and prompted corrective action from Philipp Frank, Guido Castelnuovo, and Max Born [46]. The idea stressed by Minkowski was that in the (Galilean) kinematics employed in Lorentz's electron theory, time being absolute, the temporal axis on a space-time diagram may be rotated freely about the coordinate origin in the upper half-plane (), as shown in Figure 2.4. The location of a point may be described with respect to frames and , corresponding to axes and , respectively, according to the transformation: , .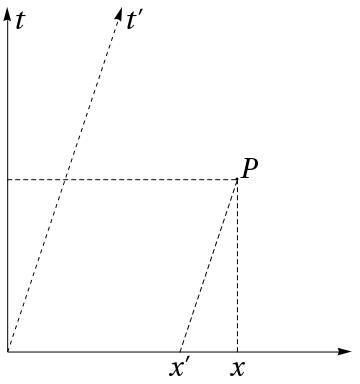 In contradistinction to the latter view, the theory proposed by Minkowski required a certain symmetry between the spatial and temporal axes. This constraint on symmetry sufficed for a geometric derivation of the Lorentz transformation. Minkowski described his spacetime diagram (Figure 2.5) as an illustration of the Lorentz transformation, and provided an idea of a demonstration in "Space and time". A demonstration was later supplied by Sommerfeld, in an editorial note to his friend's lecture [1], which appeared in an anthology of papers on the theory of relativity edited by Otto Blumenthal [39, 37].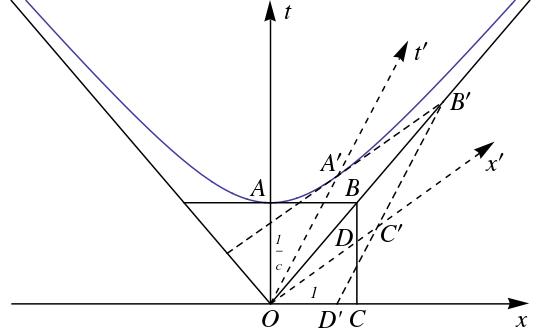 Minkowski's spacetime map was not the only illustration of relativistic kinematics available to scientists in the first decade of the twentieth century. Theorists pursuing the non-Euclidean style of Minkowskian relativity had recourse to models of hyperbolic geometry on occasion. The Poincaré half-plane and disk models of hyperbolic geometry were favored by Varičak in this context, for example. Poincaré himself did not employ such models in his investigations of the principle of relativity, preferring his light ellipse.
Of these three types of diagram, the light ellipse, spacetime map, and hyperbolic map, only the spacetime map attracted a significant scientific following. The relation between the spacetime map and the hyperbolic maps was underlined by Minkowski, as shown above in relation to surfaces (2.6) and (2.7). There is also a relation between the light ellipse and the spacetime map, although this may not have been apparent to either Poincaré or Minkowski. Their published appreciations of each other's contributions to relativity field the barest of acknowledgments, suggesting no substantial intellectual indebtedness on either side.
The diagrams employed in the field of relativity by Poincaré and Minkowski differ in several respects, but one difference in particular stands out. On the one hand, the light ellipse represents spatial relations in a plane defined as a meridional section of an ellipsoid of rotation. A Minkowski diagram, on the other hand, involves a temporal axis in addition to a spatial axis (or two, for a three-dimensional spacetime map). This difference does not preclude representation of a light ellipse on a Minkowski diagram, as shown in Figures 2.6 and 2.7, corresponding, respectively, to the two interpretations of the Lorentz transformation offered by Poincaré before and after 1909.
In Poincaré's pre-1909 interpretation of the Lorentz transformation, the radius vector of the light ellipse corresponds to light points at an instant of time as read by clocks at rest in the ether frame. The representation of this situation on a Minkowski diagram is that of an ellipse contained in a spacelike plane of constant time (Figure 2.6). The ellipse center coincides with spacetime point , and the points , , , and lie on the major axis, such that is a semi-minor axis of length . The light ellipse intersects the lightcone in two points, corresponding to the endpoints of the minor axis, and . There are no moving clocks in this reading, only measuring rods in motion with respect to the ether. (The -axis is suppressed in Figure 2.6 for clarity). The abstract nature of Poincaré's early interpretation of the light ellipse is apparent in the Minkowskian representation, in that there are points on the light ellipse that lie outside the lightcone, and are physically inaccessible to an observer at rest in the ether.
In Poincaré's post-1909 repurposing of the light ellipse, the light pulse is measured with comoving clocks, such that the corresponding figure on a Minkowski diagram is an ellipse in a plane of constant time . The latter -plane intersects the lightcone at an oblique angle, as shown in Figure 2.7, such that their intersection is a Poincaré light ellipse. (The -axis and the -axis are suppressed for clarity).
Both before and after 1909, Poincaré found that a spherical light pulse in the ether would be described as a prolate ellipsoid in inertial frames. Meanwhile, for Einstein and others who admitted the spatio-temporal relativity of inertial frames, the form of a spherical light pulse remained spherical in all inertial frames. In Poincaré's scheme of things, only for ether-fixed observers measuring wavefronts with clocks and rods at rest is the light pulse a sphere; in all other inertial frames the light pulse is necessarily shaped like a prolate ellipsoid.
Comparison of Poincaré's pre-1909 and post-1909 readings of the light ellipse shows the ellipse dimensions to be unchanged. What differs in the Minkowskian representations of these two readings is the angle of the spacelike plane containing the light ellipse with respect to the lightcone. The complementary representation is obtained in either case by rotating the light ellipse through an angle about the line parallel to the -axis passing through point .
We are now in a position to answer the question raised above, concerning the reasons for Poincaré's embrace of time deformation in 1909. From the standpoint of experiment, there was no pressing need to recognize time dilation in 1909, although in 1907 Einstein figured it would be seen as a transverse Doppler effect in the spectrum of canal rays [9]. On the theoretical side, Minkowski's spacetime theory was instrumental in convincing leading ether-theorists like Sommerfeld and Max Abraham of the advantages of Einstein's theory. Taken in historical context, Poincaré's poignant acknowledgment in Göttingen of time deformation (and subsequent repurposing of his light ellipse) reflects the growing appreciation among scientists, circa 1909, of the Einstein-Minkowski theory of relativity [53].